Make Yourself at Home at Our Place
Come home to Blue Elephant Artisan Brewery. Relax in our casual dining rooms, spice it up a bit in The Thai Room, or hit the pub or patios for a friendly pint.
Banquets, Luncheons & Events
A successful gathering always consists of three things: Food, Atmosphere, and People. At Blue Elephant, you bring the people, and we'll take care of the rest. From reunions and celebrations to banquets and reception parties to corporate events and seminars, we'll set up and cater to groups of up to 50 people. Catering options from finger foods to full meals are available and can be modified to meet any dietary requirements.
Our Banquet Room includes A/V equipment for seminars, presentations, or entertainment and our patios are excellent venues for the warmer months. We also offer enclosed rooms within our restaurant for more intimate functions such as family reunions and corporate luncheons.
See our catering menu, or more information contact us.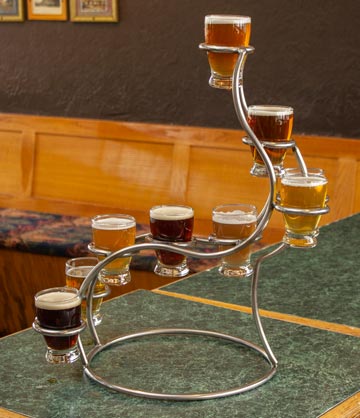 Main Dining Room
Licensed for a max of 24 people
Thai Room
Licensed for a max of 14 people
Back Dining Room
Licensed for a max of 16 people
Banquet/Seminar Room
Licensed for a max of 50 people
Front of Pub
Licensed for a max of 16 people
Back Patio and Shed
Licensed for a max of 50 people
Front Patio
Licensed for a max of 30 people